Well that went well… The cameras and networking for the Arafura Games Sailing was a great success Tom, Clancy, Greg and Matt from Majestix Media built and streamed the Sailing pretty much as planned, we used security cams and drill batteries instead of go pros but otherwise it was pretty much as planned. Clancy and …
OK so the plan to WiFi stream from boats is coming on. I have some onscreen displays for OBS (Open Broadcast Studio) testing vid below: This is me and OBS testing the startOmatic on sceen display – background video of the Shaw 10 'Orbit' going down hill. Good day on the water. More info …
Hacked a Rugby Scoreboard into a Sailing Start Timer. Plus some Navionics API plus some Google Maps
Why has this site come back?
Well Tom still does WiFi, and his websites a shocking mess and he needed somewhere to put his current projects.
Due to a complex set of circumstances, a yacht and some rum, part of PierToPier.net migrated to Australia's Northern Territory, stopping along to the way to re-wireless the odd pacific island.
He operates many of the original PierToPier.net ideals out of Darwin Australia. Who'd have thought the skills acquired in the mud of Glastonbury and the salt and gravel of Brighton Beach would suit the outback?
Wireless Hotspots – some were built for his former employer, some like the one at Darwin Sailing Club are similar to the PierToPier model.
Streaming Video – Both South Darwin Rabbitohs Rugby Union club, The Darwin Sailing Club and NT Rugby union have supported Tom in streaming sports events. Mostly this has involved being nailed to a laptop and electricity, keep looking here as I try to figure out how to stream build wireless to stream live from boats, buoys and drones.
Digital Signage & Mapping. Its no good being able to stream stuff if you can't show it off. Yacht trackers exist in phone app and interactive form, not for digital signage. The ultimate goal is to provide Live Footage of yacht races such as the Darwin to Ambon for digital signage.
PierToPier is, or was, a pioneering free wireless internet provider, mostly in Brighton UK, in the pre iPhone era.
Run by Volunteers and funded by sponsorship and donations it provided free internet access to the main section of Brighton Beach as well as some pubs and the odd music festival.
Started in 2003, most hardware was home made, or at least heavily customised. Operating systems too.
What its in now? Well the original crew are all still around, many have moved away or are involved in other projects, we feel we should put this site back up and link it to our current projects.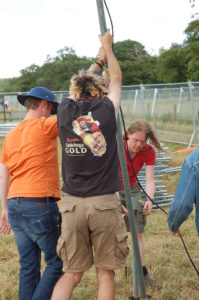 The Classic  PierToPier Crew lineup: